VENERABLE NANO NAGLE
The birth of a baby girl, Honora Nagle, better known as Nano Nagle, in County Cork in 1718 changed the course of Irish history and subsequently the history of many parts of the world. The wilful young girl from Ballygriffin was educated as a child in a local hedge school, and later in Paris and Ypres (French territory, now Belgium). Nano was a wilful and spirited young girl. Her parents sometimes despaired of her free-spirited nature. Yet over time, she gave up a life of comfort and privilege to minister to those on the margins of society.
The daughter of a society family, Nano opened her eyes to the poverty of body and soul and inequity that she saw around her. She searched her own heart and responded with a course of action that has, over time, changed thousands of lives across the globe.
She responded in the most challenging of circumstances – educating children in secret schools when Penal Laws forbade the setting up schools for Catholics, ministering to the wretched and the dispossessed and sharing everything with them till she had scarcely enough resources for herself. Working at times through illness and often through adversity, Nano gave her 'all' to the poor and needy of Cork.
From a project of small beginnings in a mud cottage in Cork city, Nano created a legacy that continues to thrive almost 250 years later.
A pioneering Spirit-led woman in every way, Nano had the foresight to set up a religious congregation, now known as the Presentation Sisters of the Blessed Virgin Mary, to ensure her legacy.
Since the Congregation's founding in 1775, Sisters have worked to secure the breadth of Nano's vision — crossing geographical, political, religious and social frontiers, bringing her vision to life with deeds, embodying her dream through a variety of ministries, especially education, faith and spirituality, social and pastoral, health care and healing. Her vision is captured the words that she wrote, "If I could be of any service in saving souls in any part of the globe I would willingly do all in my power."
The world has changed radically since Nano circumvented the Penal Laws by providing schools for the education of poor Catholic girls and boys in Cork city. Yet her lantern light lives on through the world-wide network of Presentation Sisters, Presentation Associates and Friends of Nano (who form part of an international lay movement for mission), co-workers and colleagues in Presentation schools and centres, and wherever those inspired by her are seeking to make the world a better place. Of the Presentation family it may truly be said there are, "Many lamps, [but] one flame" . . . the flame of the Divine (Rumi).
In 2013, Nano was declared Venerable by Pope Francis – fitting recognition of her role as a woman of heroic virtue.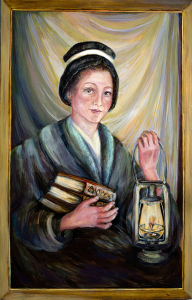 Venerable Nano Nagle has touched the lives of millions and her courageous pioneering spirit continues to inspire through the ages. With this evolving website we hope to connect those who walk in the footsteps of Nano Nagle and creatively grow a location for sharing stories and resources with all those who seek a connection to Nano.

Nano Nagle 1718-1784, courageous champion for those on the margins of society, educator, social innovator and founder of the Presentation Sisters.
SHARE
We would love you to share your wishes, experiences, ideas and stories of walking in the footsteps of Nano so that we can share them with others. Send them to communications@pbvm.org